Goodbye Toner.
Hello Future.
Hello fast, cool, smart…
Hello Epson Business Inkjet.
Epson's heat-free PrecisionCore
technology delivers high-speed,
high-quality business color with
high-yield ink systems.
Learn More
Epson for Home & Office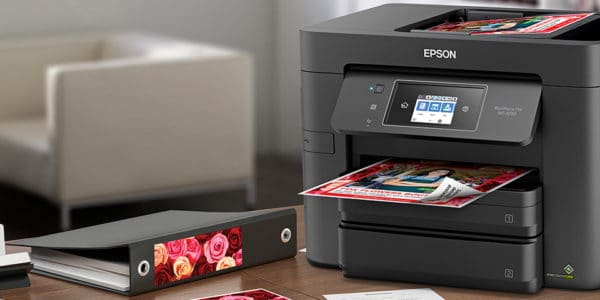 Designed for use in small or home offices, Epson WorkForce and WorkForce Pro printers deliver print-shop quality, plus fast print speeds, featuring extra-high-yield, individual ink cartridges or packs and large paper capacities. Additional features include scanning to the cloud and easy wireless printing from tablets and smartphones.
Costs
Inkjet printers have lower costs
for supplies, printing and service
than comparable laser printers
Imaging
In an inkjet printer, paper (media)
does not touch the ink delivery
system (print mechanism)
Inkjet printers support a broad
range of paper types
Serviceability
Inkjet printers are less complex,
with fewer break points and
serviceable parts
Inkjet printers are reliable
and designed for business
applications
Sustainability
Inkjet printers offer lower energy
consumption than laser printers
because they don't need heat to
melt toner at high print speeds
Inkjet printers produce less waste
than comparable laser printers
because there are fewer imaging
components to replace